Hosts Of, If You Lived Here, Appearing at This Year's Show
Jan 30, 2023, 20:56 PM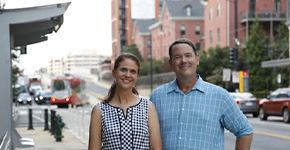 The hosts of the WETA highly-popular house-hunting and neighborhood history show If You Lived Here, Christine Louise and John Begeny, will appear at the Capital Remodel and Garden Show on Friday, February 24 and Saturday, February 25.
The native Washingtonian hosts are WETA and also happen to be best friends who love house hunting. Together, they have showcased more than 30 communities in the D.C., Virginia and Maryland area in their three seasons as hosts of If You Lived Here.
In each show, working with a local Realtor, they tour three homes in a National Capital area community or neighborhood. As part of each show, John and Christine try to guess the selling price of the home they are touring adding to a friendly competition between the friends. They highlight not only the community's real estate but also its history, culture and notable places.
The series premiered its third season on January 23 featuring a starter home, a mid-century and a colonial residence in Northern Virginia's Mount Vernon neighbnorhood. This season, they will also visit homes in Annapolis and Sandy Spring/Olney, Maryland and Washington, D.C.'s Navy Yard.
The longtime colleagues created local WETA documentaries such as Discovering Washington: Through the Lens; The Washington Cherry Blossoms: A Gift of Friendship, winner of a National Capital/Chesapeake Bay Emmy Award; and a trilogy of films tracing the evolution of historic Alexandria from the city's early years to the present day.
John Begeny and Christine Louise
Co-hosts If You Lived Here
On stage: Friday February 24 – 1 pm; Saturday February 25 - noon