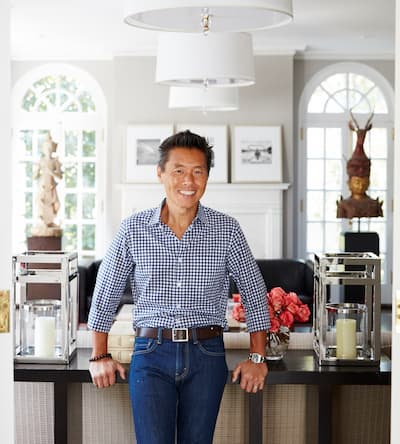 Vern Yip
One room at a time, Vern Yip is designing his way across America, having knocked down walls and made over countless homes and restaurants during his four seasons on the original run of TLC's Trading Spaces and during his over ten years as one of HGTV's most recognizable designers.

Vern has spread the word on digital home makeovers through AOL and worked hand-in-hand with companies such as Microsoft, Procter & Gamble, Delta, Baccarat, and Porsche. His national commercial for the AT&T U Verse Wireless Receiver aired during some of America's most-watched programs, including the Super Bowl and the Grammy Awards. Recently, Diet Pepsi partnered with Vern to release a limited-edition Vern Yip can, making him the only interior designer to have ever had his own signature can. Among Vern's highly lauded product collaborations are the Vern Yip for Trend Home Fabric, Trim, and Wallcovering Collections in partnership with Fabricut, a full line of lighting with Stonegate by AFX, and a Home Décor and Accessory collection distributed through OneCoast. Vern recently launched his indoor/outdoor fabric collection for Fabricut as well as his latest Kitchen and Bath Collection with partner SKL Home, ltd., the country's largest distributor of textiles and accessories for these spaces. His newest collaboration is a premium sheet and bedding collection with WestPoint Home, the world's most respected manufacturer in this space, that will launch in September of 2023.
Vern's past HGTV projects include four seasons of his own show titled Deserving Design with Vern Yip and two seasons as host and designer of HGTV Urban Oasis. His HGTV work also includes nine seasons of HGTV's top-rated prime-time series HGTV Design Star and several seasons of Bang for Your Buck, where he served as the show's host and design expert. In 2018, Vern returned to the show that launched his television career with the reboot of TLC's Trading Spaces. He was also a part of the 2019 reboot of While You Were Out which premiered on both TLC and HGTV. This year, Vern begins work on a new show to debut in the fall of 2023. All of Vern's shows are available to stream via Discovery+.

Vern runs his own design company in Atlanta, Vern Yip Designs. With an undergraduate education from The University of Virginia, a M.B.A. and Master of Architecture from The Georgia Institute of Technology, and an honorary Doctorate from the Savannah College of Art and Design, Vern has used his varied educational background to build a distinguished business. Many elements of Vern's eclectic style demonstrate an influence from his love of travel. Vern has traveled to over sixty countries as a travel and design columnist for The Washington Post since 2011, a design advisor to global brands, and as a U.S. Ambassador for UNICEF.
Vern's projects have amassed an impressive list of design awards including 2015 Design Maverick Nominee, the Distinguished Southerner Award, and Southeast Designer of the Year. Vern is now in his thirteenth year working with UNICEF as a U.S. Ambassador to help raise awareness of the needs of children around the world. He is passionate about his work with UNICEF and designed the 2009- 2019 UNICEF Snowflake Balls that took place in New York's famous Cipriani. He also serves as the Founding and National Chair of The UNICEF Experience and has hosted four installments of the event in Atlanta.

Recognized on the street, in home improvement centers, and in public venues across America, Vern has been prominently featured in publications such as The New York Times, The Wall Street Journal, USA Today, and People Magazine, including a spot on the 2017 Most Beautiful list. His award-winning design work has repeatedly made its way onto the pages of House Beautiful, HGTV Magazine, and onto the cover of Traditional Home. He is also frequently seen on NBC's TODAY show and is a regular contributor on Live! with Kelly and Ryan. Vern's first book, Vern Yip's Design Wise: Your Smart Guide to a Beautiful Home spent nearly a week as an Amazon #1 Bestseller and in the overall Amazon Top 15, landing at #2 on The New York Times Bestseller list. His second book, Vern Yip's Vacation at Home: Design Ideas for Creating Your Everyday Getaway was released in the fall of 2019 and has quickly become a highly-rated Amazon bestseller as well. He is currently working on his third book which is slated to be released in the spring of 2024

Vern Yip will appear on the main stage on Friday, February 24th at 2:00pm, and Saturday, February 25th at 1:00pm.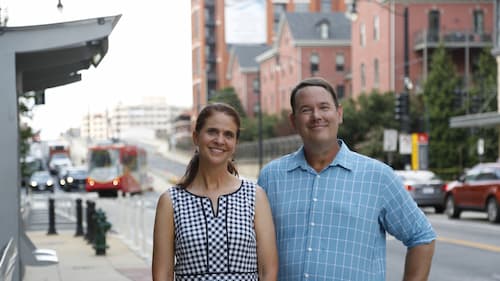 Christine Louise and John Begeny
Hosts of WETA house-hunting and neighborhood history series If You Lived Here
Christine Louise and John Begeny are producers at WETA and also happen to be best friends who love house hunting. Together, they have showcased more than 30 communities in the D.C., Virginia and Maryland area in their three seasons as hosts of If You Lived Here. The longtime colleagues created local WETA documentaries such as Discovering Washington: Through the Lens; The Washington Cherry Blossoms: A Gift of Friendship, winner of a National Capital/Chesapeake Bay Emmy Award; and a trilogy of films tracing the evolution of historic Alexandria from the city's early years to the present day.
Christine & John will appear on the main stage on Friday, February 24th at 1:00pm, and Saturday, February 25th at Noon.