McLEAN NATIVE, VERN YIP, RETURNS TO THE CAPITAL REMODEL & GARDEN SHOW
Feb 6, 2023, 14:30 PM
Vern Yip is known for his lively interiors and for his creativity in changing up homes in shows such as TLC's Trading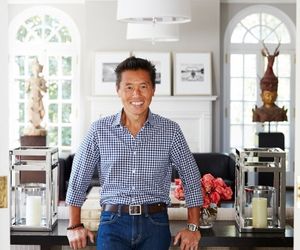 Spaces and HGTV Urban Oasis. He runs his own design company in Atlanta and creates his own home furnishings and lighting products. He writes on design and travel for the Washington Post and other publications. Vern will be appearing at the Capital Remodel & Garden Show February 24-25 at the Dulles Expo Center. It's his first time with us since 2018. He is native of McLean, VA so this is a homecoming for him.
He told us: " I think it's important to talk about how to best address the increasing importance of the home environment through design. Our homes became the centers of our lives, during the pandemic, underscoring the need for spaces that fully support both our personal and professional lives." he continues, "Many tried to tackle refreshes and/ or full-on renovations realizing that a home environment tailored to those living under its roof can vastly improve the relationships occurring within its walls. But lots of folks found that they got it wrong. I'm planning to dispense some tips on how to get it right."
Vern is raising a nearly-twelve-year-old daughter and just-thirteen-year-old son with his husband Craig. He is currently working on a third book that will build upon the design foundation laid out by both Design Wise and Vacation at Home. Additionally, he's celebrating the tenth anniversary of his Vern Yip for Trend brand with a second wallcovering collection that will make its debut this September. On top of that, he says he is stepping back in front of the camera for a new project that he can't talk about yet but is very excited about.
We posed some questions to Vern ahead of his appearance on our Capital Remodel & Garden Show stage:
Question: What home gadget or tool should every homeowner own?
Vern: A 25' measuring tape. From laying out your space to hanging your art at the right height, a measuring tape will save both time and prevent arguments…especially employed in conjunction with my book Design Wise which provides all the critical dimensions for your home.
Question: In your opinion what's the most underrated tool in your toolbox?
Vern: My level. Most homes aren't built perfectly but your inner balance corrects for this. If items in your home aren't then installed level (from kitchen countertops to light fixtures and art) it can create a discomfort that you can't quite put your finger on.
Question: What is one project you tell people to NOT do as DIY?
Vern: Re-finishing wood floors. Your wood floors can be complicated, and you need a professional to assess their condition with an emphasis on how much wood surface you really have left to contend with. If you aren't entirely sure of what you are doing, you could create divots, sand unevenly, or sand right through the usable layer, resulting in a costly new floor.
Question: Tell us about your pets.
Vern: We've got five, adopted dogs that total about 500 pounds. I'm a major dog lover and a huge fan of dog adoption. They serve as major inspiration for my work, keep me calm when the work pressure ramps up, and are a constant reminder of the goodness in our world. Of course, they shed like crazy which means twice-daily vacuuming (I'm a neatnik) but I don't mind.
Question: Favorite room in your home?
Vern: Our bedroom. I believe that a home should be designed to reflect the people who inhabit it which means the rest of the house takes into account the entire family. Our bedroom, however, has been designed to reflect just me and my husband. It's a great respite, reflecting our many trips to far-flung places, and perfect for regenerating. I also love the south-facing light which means there's beautiful, bright light throughout the day. I'm a natural light fanatic so the drapes are never drawn.
Question: What's your next home project?
Vern: I'm in the process of designing our next home in Serenbe, a wonderful community outside of Atlanta, with a real focus on wellness and community. It overlooks a beautiful pond, horse pastures, and miles of farm fence over rolling hills. I love the idea of escaping there on the weekends, hiking the trails, and taking in some fresh, country air!
Question: What project are you currently working on?
Vern: I'm really enjoying growing the Vern Yip brand which has been in existence for over ten years now! I can't believe how fast it's gone and am so grateful that it's been so well received. This fall will see the debut of my second wallcovering collection which follows the launch of my fifth home fabric collection last year. In addition, I'll be designing new bath and kitchen collections as well as some new lighting fixtures for my lighting collection. 2023 will also see me very busy working on my next book. On top of all of this, I start shooting something very exciting for a great network but I can't reveal any details just yet!